There's nothing worse than getting to work and being hungry when you're trying to be healthy. The unhealthy donuts and coffee cakes call your name all morning, and you finally cave, all because you didn't have time to sit down and make that time consuming meal, even toasting a bagel taste 10 minutes!
Don't let mornings de-rail your healthy habits! Try these amazing breakfast options that need nothing more than a stir and a pop in the microwave!
1. Minute Muffin by Blogilates
Ingredients: 1/4 cup quick oats 1 egg Handful blueberries (or raspberries) Sprinkle brown sugar or Stevia 1 tablespoon plain soy or almond milk
Directions: Take a little less than a quarter cup of quick oats, one egg, a small handful of blueberries and some brown sugar or Stevia if you like things sweet, and mix it all up in a coffee mug. If you want your muffin a little moist, add a tablespoon of plain soy milk or almond milk.
Place mixture in the microwave for 1 minute. Watch it carefully since this could overflow.
If the muffin top does not look firm, place back in the microwave 30 seconds at a time.
Once ready, flip mug upside down onto a plate and enjoy with a piece of fruit
2. 2 Minute Scramble
Ingredients:
3 eggs, yolk included
Diced tri-color peppers
Goats Cheese
Heavy Whipping Cream
Directions:
Whisk 3 eggs until liquified in to go container. Add peppers and goats chese along with a splash of HWC. Place in microwave for 2 minutes, stir with fork to break up. Add ground beef or breakfast sausage if you'd like.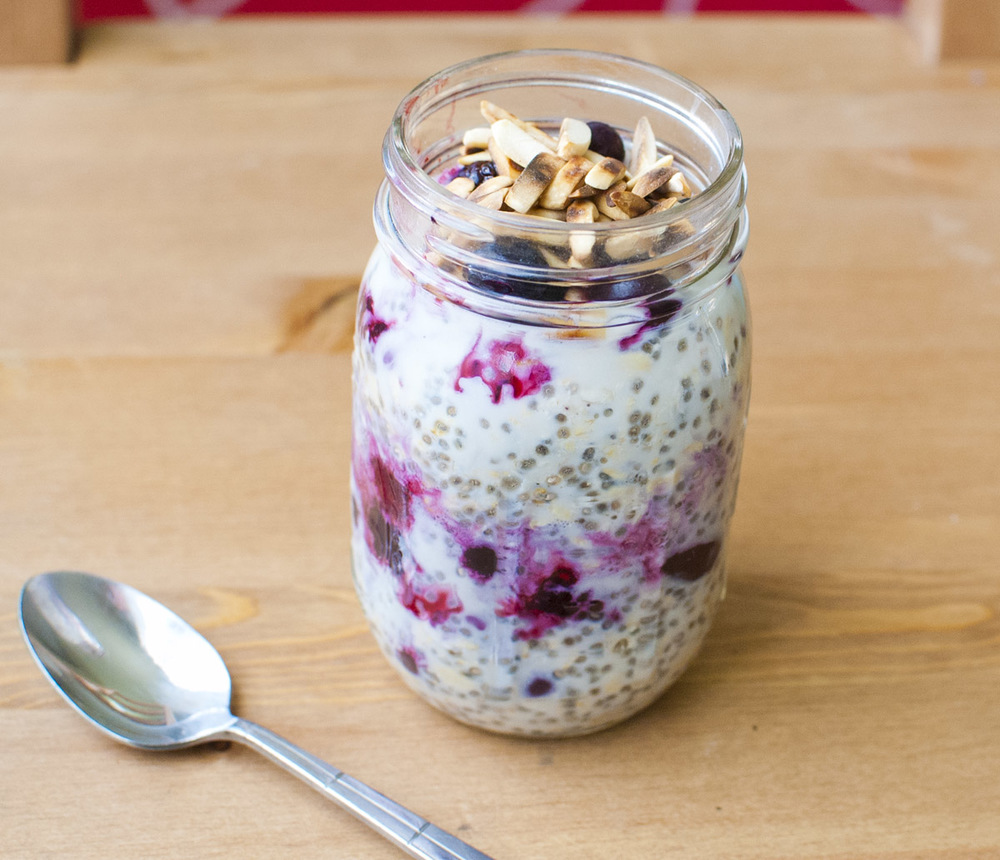 3. Overnight Oats
PREPARE THE DAY BEFORE!
Ingredients:
2/3 cups dry rolled oats
160mL Apple Juice (unsweentened)
1/2-2/3 Cup Greek Yogurt
1 Medium Apple (finely chopped/grated)
2 tsp Sunflower Seeds (or flax & chia seeds)
1/2 cup fresh blueberries OR 2/3 cup frozen blueberries
Directions:
Place all igredients into a container and soak overnight in fridge. Remove an enjoy!
4. 3 Minute Chocolate Almond Butter Quinoa Oatmeal via Refinery29
1 Trader Joe's Frozen Oatmeal & Quinoa puck 1 tsp unsweetened ground cocoa powder (such as Ghirardelli's) 1 tbsp almond butter (we love Peanut Butter & Co.'s "The Heat is On" spicy peanut butter for an extra kick!) 1 tsp carob chips 1 tbsp Greek yogurt 2 tbsp almond milk or soy milk 2 tbsp chopped apples Chopped almonds for garnish (optional) Instructions Put the frozen oatmeal and quinoa disk in a large mug and microwave for 2 minutes. Stir in the ground cocoa and peanut or almond butter. Cook for one minute longer, then stir in the Greek yogurt, milk, and most of the chopped apples. Garnish with mini chocolate chips, a few chopped apples, and chopped nuts. Enjoy!